Quick Read
Are you looking for warehouse storage in the El Paso area? John Ferguson is your answer for secure storage that keeps your belongings safe. We give top-quality warehouse solutions by providing:
Free Storage for First 30 Days with At Least 6 Months Storage
Climate-Controlled Warehouse
24/7 Surveillance
Background-Checked Crew
Whether you're looking for solutions to your residential storage needs or your office storage needs, John Ferguson is right for you. We make sure to build our services to be tailorable to truly fit your needs. John Ferguson is your full-service warehouse storage provider.
If you have any questions or want to learn more, you can reach a friendly John Ferguson representative at (915) 529-1980. Fill out this quick online form to get your free estimate today.
When looking for storage solutions, look toward a company that is trusted by the community because they are truly a part of the community. John Ferguson is proud to be a locally-owned and operated El Paso moving and storage company that is built to handle your warehouse storage needs. Trusted since our start in 2006, we are dedicated to providing stress-free and secure storage.
El Paso Warehouse Storage Services
Our goal in providing warehouse storage solutions is giving you both a convenient storage option and a secure storage option. The process should be simple and your items should be guaranteed to be safe. We accomplish this by providing these services: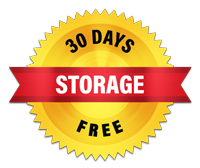 30-Days Free Storage with At Least 6 Months Storage
Climate-Controlled
24/7 Surveillance
Access Upon Request Anytime
John Ferguson is dedicated to making the entire moving and storage process stress-free and effective. We have experience in this industry since our start in 2006 and have learned exactly what people want and need for their warehouse storage.
Residential Warehouse Storage
Moving can be unpredictable, to say the least. Even if you didn't originally plan for it, you can often find yourself in need of warehouse storage space. We have seen many times where a family is selling their home, and is ready to move, when they find out they won't be able to move into their new home yet, whether because they're still looking, or because the new house is being worked on. While temporarily downsizing in this situation it is common for people to use warehouse storage.
When selling a home you may find a need for secure warehouse storage options. Experts in the real estate field all agree that a home being shown should look lived-in, but not cluttered. For many, this can be difficult to accomplish. Secure warehouse storage from John Ferguson is your solution to storing your clutter while showing your home.
These are just a couple of the reasons we've seen for people using our secure, climate-controlled warehouse space for their residential needs.
Office Warehouse Storage
Heavy furniture, delicate tech, and valuable documents are all common items in offices that need to be managed. Warehouse storage may be right for your office if you're looking for either of these solutions:
We can make your office move stress-free by storing your items. Our crew has been properly-trained to expertly handle larger items and delicate electronics.
Warehouse storage is the perfect solution to records management. Storing your physical archive of documents allows you to optimize your space in your office while giving you easy access to any records you may need.
Our warehouse solutions are the perfect solution to making your office move run smoothly and give you peace of mind, as well as allowing you to store your records in a convenient way.
Get Your Warehouse Storage EstimateFrom John Ferguson
Here at John Ferguson, we have been trusted since our start in 2006. We are a locally-owned and operated company who truly cares about the El Paso area. That's why we provide great services that truly help and make the entire moving and storage processes easier and more effective. Go with John Ferguson for top-quality warehouse storage solutions.
If you're planning for your storage solutions and want a free estimate, just fill out this online form. Be sure to call us at (915) 529-1980 if you have any questions or want to learn more.